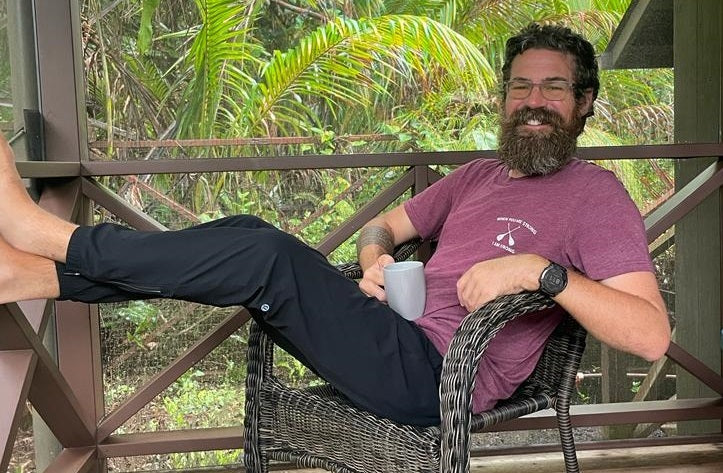 I arrived back home 5 days ago. Flying from Hilo to SFO in 5 hours felt very strange. So fast. So easy. So cheap (compared to the cost of my expedition).
Why would one decide to cross that ocean in 3 months, when such a traveling medium is available? The answer is complex to answer, but I think it relates to the inner need of us humans beings to push our own boundaries, to discover ourselves through the completion of challenges, to measure ourselves against Nature and the elements, to want to discover and feel Life by our own means.
This project was amazing. The dust is slowly settling. The expedition is over. The dream was lived. The moment I set foot in our home, I instantly felt that the loop was closed. The crossing is completed. It was not a CA to HI crossing project, it was a home to home project. The expedition really started the moment I left home, my head full of hopes and determination, and finished the moment I was back, safe, and with my head full of emotions and memories.
Now, what?
I think there's a known psychological syndrome for the adventurer, who, after being focused for so long on a single objective, suddenly feels aimless after having completing it. The natural tendency would be then to fill up that gap and mental craving by immediately aiming for another adventure. I'm trying as hard as I can to avoid that. I have to admit that it's really hard. I don't feel aimless, or lost, but I do wonder what I should do next. I have taken a few books out of my library and put them on the top of the pile. I have looked at a few maps. I know  Adventure will always be part of my life, but I need to purposefully give myself room, relax, enjoy. I can look at the menu, but I must not order anything yet.
Focus on recovery: I have given my body a hard time. Even if I still feel strong, I have to give time to my body to recover properly. My muscles need to replenish, my tendons and joints need to restrengthen and rest, my sleep needs to resettle to a healthy rhythm, my mobility and balance needs to be regained. I need to eat well, supplement my body's needs and give it time. No rush.
Next week I'm going to North Carolina at the Human performance lab of Standard Process and we will do a full day of tests. The same that we had done before the crossing: VO2 max, grip, strength measurements, blood analysis, BMI (Body Mass Index), bone density,… It will be super interesting to see the difference between the before and the after. I have taken blood samples before, during and after so the lab can analyze how my body responded to the hardship. There is very little data on how a 90 day expedition impacts the body. More than just the 20 lbs lost (I have already gained 10 lbs back, lol), what are the impact of the expedition on the liver, on the lungs, on the heart, on the mind…. So interesting to me.
The expedition is over. I am enjoying truly being back on shore and share the story with everyone.
"One day at a time". Funny, that's exactly what I was telling myself when I was on the kayak.
Aloha to all, Love to all, Cyril